A Guide to Your Legal Obligations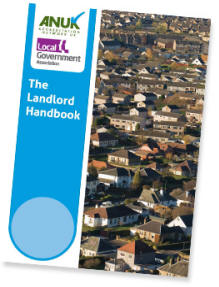 Introduction
The rental sector is very heavily legislated to ensure the safety and standard of residential property. Below we have reproduced guidance with links for further reading or online resources.
Often referred to as an excellent start point for Landlords is The Landlord Handbook, published by ANUK/Unipol Student Homes. Updated in 2012, within its 106 pages lies a wealth of advice and useful information, though it does assume a certain level of knowledge. Available as a PDF, via the download link below. If you do not have Adobe Reader installed you may download it here for free.
Repairs & Maintenance
Section 11 of the Landlord and Tenant Act 1985 states that a Landlord will be responsible for ensuring that the following are kept in repair and proper working order:
The structure and exterior of the property, including drains, gutters and external pipes;
The installations in the property for the supply of water, gas, electricity and for sanitation (including basins, sinks, baths and sanitary conveniences) but not other fixtures, fittings and appliances for making use of the supply of water, gas or electricity; and
The installation in the property for space heating and heating water.
Landlords are not obliged to effect improvements to the property. Nor are they expected to repair any of the items listed above in cases where the Tenant has caused the damage or disrepair. Landlords are furthermore not expected to rebuild or reinstate the property in cases of flooding, fire or other such accident, including the repairing or maintaining of furniture or other such assets belonging to the Tenant.
The Landlord's obligations in terms of Section 11 will only arise when he has received notification of the defect. The Landlord is permitted a reasonable period in order to carry out the repairs. What determines a reasonable period will depend on the nature of the defect as well as the urgency of the defect needing to be repaired. The Landlord is entitled to first inspect the defect and should be provided with a right of access to the property, upon notice of such inspection to the Tenant.
Where the Landlord has failed to carry out the necessary repairs in terms of Section 11, the Tenant has the following legal remedies:
The courts can force the Landlord to carry out his repairing obligations.
The Tenant can claim for any loss or damage that he has suffered as a result of the defect not being repaired or not being repaired timeously. The Tenant is entitled to a sum that would restore him to the position that he would have been in had there been no breach on the part of the Landlord.
The Tenant could attend to the repairs himself and then set-off the cost of such repairs from the rent owed to the Landlord. This route should be exercised with caution and legal advice obtained as there are strict circumstances in which this remedy may be utilised.

Further reading
Repairs: A guide for Landlords and Tenants (186kb)
Housing Health and Safety Rating System (2.05MB)
See also Landlord and Tenant Act 1985
Gas Safety
Where the property has a gas supply, you will require a Landlord's Gas Safety Certificate covering all appliances installed within the property. Even if there aren't any gas appliances in the property, any live gas pipe work must still be safe. By law, as a Landlord, you are legally responsible for the safety of your Tenants in relation to gas safety. You are legally required to ensure the repair and maintenance of gas pipe work, flues and appliances, ensure an annual safety check on each appliance and keep a record of each safety check (for at least two years). All works and certification must be undertaken by a Gas Safe registered engineer. The Tenants also have a duty to ensure that they operate equipment in a safe manner and to report any faults between inspections. Where a Tenant supplies their own gas appliances, the Tenant is responsible for the checking of the appliances, however the Landlord may still be responsible for the supplying pipe work.
Further reading
HSE A guide to Landlord's duties: Gas Safety (Installation and Use) Regulations 1998 (259KB)
See also The Gas Safety (Installation and Use) Regulations 1998
For more information visit www.hse.gov.uk
Electrical Installation & Portable Appliance Safety Checks
Often misquoted as a legal requirement is the testing of portable appliances such as kettles, toasters, lawnmowers, lamps etc. There is no legal requirement to test any portable appliance (called PAT testing) or the electrical installation. However, and here's the really important bit, as a Landlord, you are legally required to ensure any electrical installation is in a safe and maintained condition and that all appliances left for the Tenant to use have at least the CE marking (which is the manufacturers claim that it meets all the requirements under European law) and that they are in a serviceable condition and safe to use. The only way to ensure that is to have them tested. As a managing agent, we are just as responsible for ensuring standards are upheld in order to ensure the safety and welfare of the tenants and their guests. For this reason, we require all managed properties to be tested in accordance with current recommendations of every five years for electrical installations and annually for portable appliances. Please note, separate rules apply to HMO properties.
Further reading
Landlord's Guide to Electrical Safety in England & Wales (1.79MB)
See also The Plugs and Sockets etc. (Safety) Regulations 1994
and The Electrical Equipment (Safety) Regulations 1994
For more information visit www.esc.org.uk
The Furniture & Furnishings (Fire Safety) Regulations 1988 (amended 1989, 1993 & 2010)
Since 1st March 1993, Landlords letting residential property have been expected to ensure that any soft furniture complies with the regulations. The main provisions are:
upholstered articles (i.e. beds, sofas, armchairs etc.) must have fire resistant filling material
upholstered articles must have passed a match resistance test or, if of certain kinds (such as cotton or silk) be used with a fire resistant interliner
the combination of the cover fabric and the filling material must have passed a cigarette resistance test.

Products covered by the Regulations comprise six groups (A to F)
a. All types of upholstered seating including chairs, settees, padded stools and ottomans. Children's furniture, foot stools, sofa-beds, futons and other convertibles, bean bags and floor cushions, nursery furniture and upholstered items designed to contain a baby or small child. Domestic upholstered furniture that is supplied in kit form for self-assembly. Second hand furniture, upholstered headboards, footboards and side rails of beds.
b. Furniture for use in the open air (garden and outdoor furniture), which is suitable for use in a dwelling (homes and caravans), upholstery in caravans (although not vehicles or boats). Cane furniture, which includes upholstery.
c. Divans, bed-bases, mattresses, pillows, and mattress pads (toppers) (FILLING MATERIAL ONLY)
d. Scatter cushions and seat pads (FILLING MATERIAL ONLY)
e. Permanent covers for furniture (textiles, coated textiles, leather etc.) Loose and stretch covers for furniture. Covers for non-visible parts of furniture
f. Foam and non-foam filling material for furniture
All furniture and products in the above groups need to comply with the Regulations and should display the appropriate regulatory warning labels (except bed bases and mattresses). The Regulations do not apply to furniture manufactured prior to 1950 or to sleeping bags, bedclothes (including duvets), loose covers for mattresses (i.e. mattress protectors), pillowcases, curtains, and carpets. However, it is important to note that these products are covered under General Product Safety Regulations 2005.
Lettings agents are also liable under the regulations. The Department of the Environment will not waive our liability even where a Landlord has signed to say that he has received regulatory advice. If furnishing is to be considered, we would require any non-conforming items to be removed from the property BEFORE the tenancy commences. Any non-conforming items left behind by Tenants would also require removal (such items can be removed at cost to the departed Tenant and recovered through the Tenancy Deposit if necessary).
Further reading
A Guide to the Furniture and Furnishings (Fire) (Safety) Regulations (359kb)
Fire Safety Risk Assessment: Sleeping Accommodation (3.44MB)
See also The Furniture & Furnishings (Fire Safety) Regulations 1988 (amended 1989, 1993 & 2010)
and The General Product Safety Regulations 2005
For more information visit www.firesafe.org.uk
Smoke Alarms
The Building Regulations (1991) state that all properties built since June 1992 must be fitted with mains operated interlinked smoke detectors/alarms with at least one detector per floor level. It is also the case that all Houses in Multiple Occupation (HMOs) are required to install a mains operated interlinked smoke alarm system. It has been a legal requirement since 1 October 2015 to ensure that on the day the tenancy commences that there is at least one working smoke alarm on each storey of the property. Where Landlords do provide battery operated smoke alarms it is the tenant's responsibility to check their operation and replace the batteries as and when necessary.
Carbon Monoxide Detectors
It has been a legal requirement since 1 October 2015 to ensure that on the day the tenancy commences there is at least one carbon monoxide detector in each room where there is a solid fuel appliance (such as a wood burner) or open fire. Carbon monoxide detectors are not legally required to be installed in rooms where there is a gas fired appliance, such as a boiler, however we strongly recommend the installation of a detector in these locations. Where Landlords do provide battery operated carbon monoxide detectors it is the tenant's responsibility to check their operation and replace the batteries as and when necessary.
Housing in Multiple Occupation (HMO)
Your property is an HMO if you let to at least five tenants made up of two or more households and the house has three or more floors and facilities such as toilets, bathrooms and the kitchen are shared. Southampton City Council, Eastleigh Borough Council and Fareham Borough Council have introduced a mandatory licensing scheme as required by the Housing Act 2004. The mandatory scheme came into force on 6th April 2006. If an HMO is operated without a licence, the person having control of, or person managing the dwelling is liable, on conviction, for a maximum fine of £20,000.
A household is defined as:
A single person living alone (without partners / relatives – three friends sharing would be considered as three households)
Couples – married, unmarried or in same-sex relationships
Relatives living together, including parents, grandparents, children and step-children, grandchildren, brothers, sisters, uncles, aunts, nephews, nieces or cousins. Half-relatives and foster parents/children are treated as full relatives
Any domestic staff are also included in the household if they are living rent-free in accommodation provided by the person who they are working for.
As a Landlord, you need to contact the local council where your HMO is located to get an HMO licensing application form. You would usually apply for a licence yourself, but if we are managing your property we may, at your request, apply for you (subject to council requirements). When you apply, you must tell the following people who have an interest in the HMO:
the owner of the HMO
the future licence holder
mortgagee
long leasehold tenants
any person who has agreed to be bound by the conditions of the licence
A licence will normally last for five years and will need to be renewed before the end of that period. A local council can shorten the time period if they feel it is necessary. You will usually be charged a non-refundable fee when applying for a licence. You should contact your local council to find out how much the fee is, as they decide on the amount.
For more information and to obtain a HMO Licensing Information pack and HMO Licensing application form please contact Eastleigh Borough Council on 023 8068 8301 or Southampton City Council on 023 8083 3006 or Fareham Borough Council on 01329 236100 as applicable for your property.
Further reading
Licensing of Houses in Multiple Occupation in England: A guide for Landlords and Managers (428kb)
Energy Performance Certificate (EPC)
An Energy Performance Certificate must be available to any prospective Tenant during the market of the Tenancy and also provided to the Tenant on move-in. This is legal requirement. While we do not insist that the EPC is arranged through ourselves, we would require proof of ordering prior to the marketing of the property. An EPC is valid for use for up to 10 years so can be reused for subsequent tenancies, though it should be reissued where improvements to the property are made in order to ensure accuracy.
Further reading
Energy performance certificates for dwellings in the social and private rented sectors: A guide for landlords (2.44MB)
Sample Energy Performance Certificate
Registration of the Tenancy Deposit
All tenancy deposits for lets starting on or after 6 April 2007 are required to be registered in a Government approved scheme within 30 days of receiving the money (was 14 days prior to April 2012). We use the Deposit Protection Service, a custodial scheme that holds the money on behalf of the Tenant.
Once we receive the deposit, we electronically transfer it across to the DPS where it is then matched to the registration we've created. We then receive a unique release code, as does the Tenant. At the end of the tenancy, we release the deposit less any disbursements for damages. We strongly advise an Inventory to be prepared at the start of the tenancy. On all managed properties we insist on the provision of an Inventory. Without it, you may not be able to recover damages from the Tenant at the end of the tenancy. Our policy is to charge the Landlord for the provision of the Inventory/Check-in and check-out at the end of the tenancy.
Currently where a regulated deposit is not protected, a Tenant may take a Landlord to court. The Landlord may have to repay the Tenant their deposit plus up to three times the deposit. Given that we take a six week deposit, on a £750 rent, that's a potential fine of £4,155 plus costs. Non registration of a deposit will also prevent you from gaining possession of the property.